A Happy Home for the Child With
Learning Differences
Let's face it, even if we have the backpacks and homework under control, our kids' rooms are
often an absolute disaster! And more often than not the biggest problem they face to keeping things clean is putting away their clothes.
Keep in mind, many of our kids with learning disabilities are disorganized by nature. But the more dysfunctional their space the more out of control they feel. So it is extremely important that the storage for clothing be logical and accessible.
The dysfunctional closet
Most of us think of closets when we think of clothing storage. But for kids, standard closets are hardly useful. The rods are too high, as are the shelves, and hanging clothes on hangers requires coordination that many children, and some teenagers do not have.
Go beyond the standard closet rod
For younger children and those with fine and gross motor skill challenges, hanging up clothes is unlikely to lead to success. Replacing hanging rods with shelving is one solution. The shelves can hold folded pants and shorts, as well as bins or baskets for socks, belts and underwear.
If you don't want to replace the hanging rod, ad another lower rod at your child's shoulder height. Do this with the understanding that you will do most of the hanging.
Another solution is drawer systems offered by closet design companies. I like the ones where the drawers do not go all the way to the floor, leaving room for shoe storage.
For more clothing storage solutions
PROBLEM
:
Lack of closet space
SOLUTION
:
Think drawers!
A chest of drawers painted with chalkboard paint is both fun and useful. Just write and draw pictures of what should be contained within.
http://paint-and-supplies.hardwarestore.com/49-265-chalkboard-paint/black-chalkboard-paint-607540.aspx
Chests of drawers are always good clothing storage. Just make sure the drawers move smoothly and are manageable for your child. Chests of drawers can be used as bedside tables if space is limited.
Irregardless of where clothes are stored, make sure each type of clothing is stored separately – socks in one area, underwear in another. If space is limited use drawer separators (you will need to monitor this a little more carefully so that socks don't float into the underwear).
I love this tip from My Frugal Adventures - inexpensive plastic shoe bins as drawer organizers. It keeps each type of clothing in it's own section. A good trick I found when my son was younger was to roll his t-shirts instead of folding them. Due to his fine motor issues he was more likely to be able to re-roll them - improving the odds that clean shirts didn't end up on the floor
Use picture labels or tags to help kids locate and put their clothes back. Many of our LD children have poor memory skills, so give them the tools they need to be successful.
These can be printed (for free) and attached directly to drawers or adhered to tags and hung on baskets or drawers.
http://creativewithkids.com/kids-clothes-drawer-labels/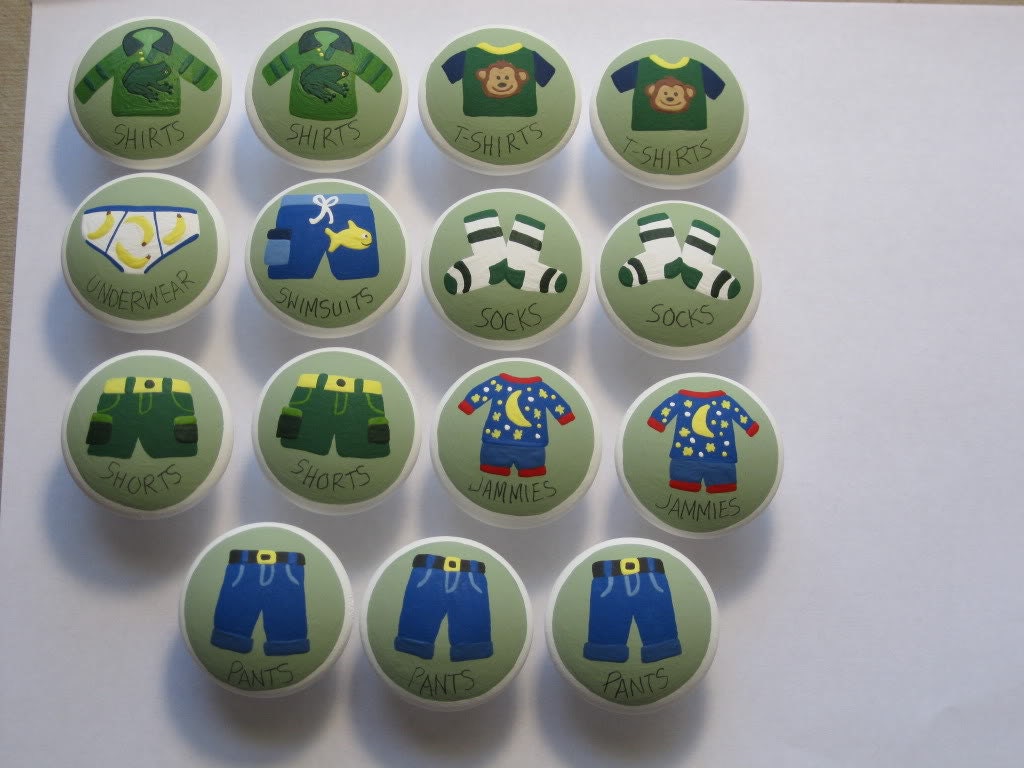 These darling knobs are terrific for younger children, especially if they are self concious about their inability to remember where things go. Available on Etsy.
http://www.etsy.com/listing/78021156/clothes-drawer-label-organizer-drawer
PROBLEM:
Still not enough storage
SOLUTION:
Bookshelves and Hooks
Bookshelves solve a number of problems. EVERY child's room needs bookshelves. Not only do they hold books but clothing can be easily found and put away in bins on a bookshelf.
This photo from jojoebi.com is a great example of bookshelves that hold bins of clothes (each with their own tag identifying what is stored in the bin) as well as toys.
If the room has enough shelves a closet may be unnecessary. Don't rule out your old office space for a kids room.
Hooks
Always a great option for the pile of dress-up clothes.
The ever useful HOOK is an excellent candidate to end floors carpeted in clothing. Think beyond princess dresses and tutus. Teenage boys love them!
Let's not leave out the teenage girl... I don't see them hanging their shirts on a hook but what about purses?
It is important for kids to put their things away because they can! This is something they can be successful at – we underestimate the importance of everyday skills but they are just as important as multiplication tables.