A Happy Home for the Child With
Learning Differences
Continuing my posts on making our homes functional for our LD kids.
Homework: The bane of parents' existence.
Homework can be especially stressful for those of us with kids with learning disabilities. But it doesn't have to be. Look at the way your kids work - and let go of the way you want them to work. This will help the two of you design /redesign their work space and help your child decide which habits work for them and which don't.
What kind of kid do you have?
THE JACK-RABBIT
The kid who can't sit still and takes many, many breaks?
THE SOLUTION
The exercise ball. In order to get the input they need some kids have to move to think. Have your child sit on an exercise ball while studying. It can be pulled up to a table or desk.
http://www.target.com/p/gofit-pro-stability-ball-gray-75cm/-/A-13941696?ref=tgt_adv_XSG10001&AFID=Google_PLA_df&LNM=%7C13941696&CPNG=sports&ci_sku=13941696&ci_gpa=pla&ci_kw=
Wall mount desks work well with the exercise ball since there are no legs to bump into.
http://www.homedecorators.com/P/Wall_Mount_Laptop_Desk/920/
THE SOCIALITE
The kid who needs a social component to work - they need to be in the middle of everything
THE SOLUTION
A desk in the kitchen or family room or the old stand-by, the kitchen table. This way they can feel a part of things while they work.
If you do choose the kitchen table, make sure to have organized supplies easily accessible.
A rolling cart that holds supplies and can be moved up to the table. A cute cart like this can be found at IKEA. It is also available in a zinc finish.
http://www.ikea.com/us/en/catalog/products/30216536/
For more homework solutions for your LD child
THE SPRAWLER
The child that spreads their upper body across the table, often looking at their work from an angle.
THE SOLUTION
A comfortable bed with an upholstered headboard and good task lighting.
Consider a developmental
ophthalmology
exam, if you haven't already had your child checked for tracking issues. Often, the sprawled body and tilted head indicate eye tracking issues.
Add a breakfast tray that can serve as a desk. This type of "desk" angles the reading material, making it easier for kids not to loose their place.
Make sure to have a bin or basket of organized homework supplies easily accessible in their bedroom where the work happens.
THE PROCRASTINATOR
The kid who cannot seem to start their work
THE SOLUTION
Set up the homework station at the kitchen table.
The IDEA of the work may be paralyzing them. By having them close to you while you make dinner, you can walk them through the steps of those first few math problems making it seem less daunting.
Kitchen tables with drawers keep those homework supplies handy.
No drawers in your table? Convert a couple of shelves in a cabinet or pantry, close to the homework space, to hold supplies.
THE STAND-UP
The kid who has to stand to work.
THE SOLUTION
The kid that likes to stand to work may be well served using a wall-desk. Much like
The Jack Rabbit,
this type of kid
receives input from movement but is more comfortable standing to type on their laptop or read their history textbook.
THE SQUIRREL WATCHER
The child that focuses on everything but their work
THE SOLUTION
Have them lie on the floor, on their stomach, propped up on their elbows, books or laptop in front of them. This position often gives kids with focus issues the input they need to direct their attention.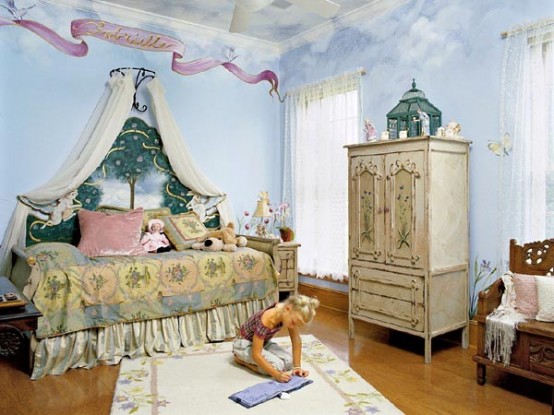 If lying on their stomachs helps them focus, make sure their room has a large comfy rug for stretching out on and a designated area for homework supplies.
THE THINKER
The child that needs their solitude.
THE SOLUTION
A desk in their room or
or large comfortable bed. Just make sure there is adequate lighting and organized homework supplies within reach.
Make sure your kids do their homework in a room with no TV, electronic games, or music.
Making the rule that there is no TV or gaming till homework is done or until the weekends, may solve procrastination issues. This is very hard to do when kids are older, but can teach good habits if applied when they are younger.