Color Schemes That Create Cohesion
Paint is one of the cheapest decorating tools!
Yes, I realize that many paints are priced above $50 a gallon. But when you consider you can change an entire room for under $200, paint is amazing and inexpensive.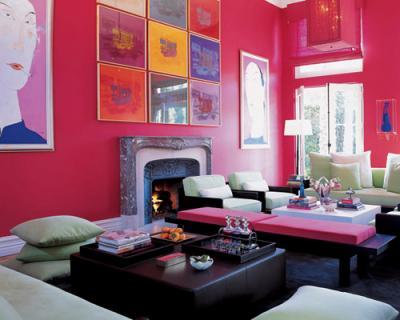 The right paint color can create warmth,
drama
, a sense of calm or even increase your visual space. However, just as important as the colors in a single room is how the colors flow between the common spaces (foyer,living room, dining room, kitchen).
Therefore, the colors should compliment the flow, making the spaces feel connected. There are a couple of trains of thought regarding how to make this work.
Single Color Scheme:
Painting all common rooms the same color. (This can exclude the foyer)
The Single Color Scheme works well when using neutral colors. It makes the space feel open and connected. This is an especially good color scheme choice for homes with a choppy floor plan.
Blended Color scheme:
Painting all common rooms different shades of the same color.
A
blended
color scheme works well in homes where some rooms have lots of natural light and others are darker (row houses). It is also fairly easy to pick three or four different colors for this type of palette. Just pick colors from the same paint strip. With this type of color scheme each space feels defined but connected.
Varying Colors Scheme:
Painting some or all common rooms a different color.
Painting each room
a different color makes each space distinct. The key to this type of color scheme is to use fabrics and accessories in each room that unite the colors, creating visual cohesion. Do you want each room a different color but don't know where to start? A classic triad color scheme (three colors spaced equally on the color wheel - think red, blue, and green) usually works well.
Of course there is more to a color scheme than just picking the wall color:
Ceiling color
,
trim color,
and
paint finish
all must be chosen - Don't Panic!
Take a look at these rooms and tips.
Don't forget the fifth wall - CEILINGS!
Blue ceilings
make the room look taller - great for basements, 8 foot high ceilings, and anytime you want to add a little drama.
Maybe
bright
colored walls would be overwhelming - what about putting the color overhead?
While white or light walls and a colored ceiling are easier to pull off,
this
room proves that dark or patterned walls with a colored ceiling can work as well.
Ceiling paint should be flat. However, if you want to use
high gloss
for drama make sure your ceiling is VERY smooth and flat - gloss paint magnifies any and all flaws.
TRIM
Once again, the key is cohesion - use the same trim color throughout the house. The exceptions to this rule are sun rooms that are not open to the rest of the house, and powder rooms.
White trim is the most common and creates a
crisp, clean
look. Sharper cool whites are more modern. While warm whites with a touch of yellow work best in traditional and country settings.
White is the most common, but by no means the only option.
This
lovely dining room uses a gray/green trim color, which you can see is carried through the rest of the house - peak out the door.
If you choose a trim color other than white, make sure it works with the style of your home and furnishings.
The Spanish style
room above is made far more dramatic by the use of black trim.
Finally, PAINT FINISHES
Rooms with flawed walls (old plaster, less than pristine drywall) - use paint with a flat finish, and semi-gloss trim.
Foyers, bathrooms, and kitchens - use paint with an eggshell or satin finish, and semi-gloss trim
Trim that has seen better days - use a satin finish. It has less sheen than semi-gloss and is more forgiving.
While these are the simple rules, you can always take a walk on the wild side...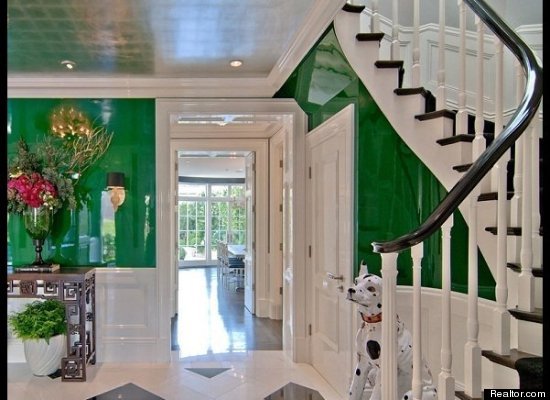 Maybe
lacquered walls
with a silver leaf ceiling.
Or for a more European or Country look use a flat paint on the walls and ceiling paired with a satin finish on the trim.
Tomorrow, I will post some of my favorite, no fail, Benjamin Moore colors and color schemes.