Choosing the Right Coffee Table
(Living Room by Darryl Carter)
It is the place to set your glass as well as the remote and often it is the piece of furniture that grounds a
room - the coffee table.
However, there are so many choices, it can be overwhelming Which size, shape and material?
Size:
The basic rule of thumb regarding size is that the coffee table should be approximately 2/3 the size of the sofa.
For example, if your sofa is 84" long look for a coffee table that is between 50" - 56".
Scale is important. The most common mistake I see is coffee tables that are too small for the sofa and room.
If you were sitting in this living room, it would be very difficult to reach the coffee table to set your glass or book. In fact, this little table looks like it is floating out in space instead of part of the grouping.
However, this coffee table is large enough to serve its purpose. When the scale is right, a coffee table makes the room feel inviting.
Here are two more examples:
If your coffee table has little to no room to set a glass it is probably too small.
Ahh! The right size coffee table in this room from House Beautiful.
Shape:
Square? Round? Rectangle? Oval? Aahhh!
Often the shape of your grouping determines the shape of the coffee table.
In a "square" seating area either a round or square table will usually work.
For a more rectangular seating arrangement use a rectangle or oval coffee table.
Sofas across from each other make a beautiful rectangular arrangement. Use a rectangular or oval coffee table.
Material:
Of course the style of your room will help determine what material your coffee table is but so should your lifestyle and space.
Families with young children may want to consider round or oval tables, eliminating dangerous corners, or a soft ottoman. Keep in mind upholstered ottomans are not conducive to eating in front of the TV - food is not their friend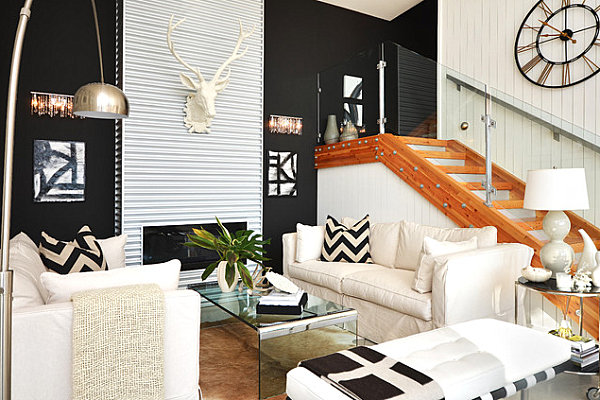 (Decoist)
Tables that take up less visual space, glass or Lucite, are great for small rooms. However, be honest, if you are not a fastidious duster these tables may just leave you frustrated.
A table made from a material that is easy to maintain leads to higher satisfaction.