Great Sofas Under $1000
To be honest I am firmly against spending as much on a sofa as I did on my first car! There are a whole host of options on the market under $2000 but it gets a bit trickier when looking for sofas under $1000. And what makes a "great" sofa?

There are a few rules I follow when selecting sofas:
Classic lines with timeless appeal, normal scale (nothing measuring 48" in depth or heavily stuffed) and solid fabric, not patterns. Of course, there are times that rules are meant to be broken but these hold true the majority of the time.

First, classic lines insure that you will like your sofa 10 years from now. Remember the giant overstuffed rolled sofa arms of the 1980's. Much like the giant rolled hair - something I would love to forget. Next, normal scale; for some reason we take length into consideration when purchasing a sofa but not depth and visual bulk. Very rarely will a 48"+ deep sofa look right in ANY room. Finally, choose a sofa in a solid color, not a pattern. Since the sofa is often the most expensive piece in a living or family room you want it to last the test of time. Patterns often date themselves. Whereas a solid sofa can be updated quickly and cheaply with new throw pillows.
The Winner's Are...
80.75"W x 36.5"D x 31.5"H IKEA $919.00
http://www.ikea.com/us/en/catalog/products/S69876003/
86"W x 34.5"D x 34.5"H Ikea $499.00
http://www.ikea.com/us/en/catalog/products/S19875765/
84"W x 35"D x 34.5"H Urban Outfitters $649.00
http://www.urbanoutfitters.com/urban/catalog/productdetail.jsp?id=17762386&parentid=A_FURN_FURNITURE_SOFAS
78"W x 37"D x 35"H Home Decorators $999.00 (on sale right now for $799.00)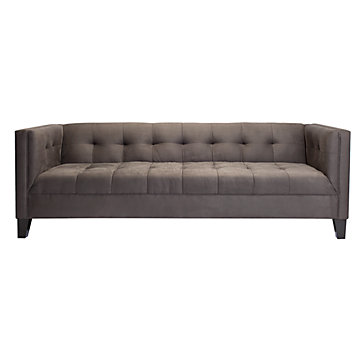 82"W x 34"D x 28"H Z Gallery $999.00
http://www.zgallerie.com/p-8568-benny-sofa.aspx
78"W x 40"D x 33.5"H World Market $800.00
http://www.worldmarket.com/product/crosby+linen+sofa.do?&from=fn
76"W x 36"D x 35"H $799.00
86"W x 36"D x 35"H West Elm $999.00
http://www.westelm.com/products/henry-sofa-g178/?pkey=csectional-sofas
80"W x 40"D x 34"H Home Decorators $999.00
http://www.homedecorators.com/P/Avery_Sofa/430/
81"W x 31"D x 29"H Sears $888.05
http://www.sears.com/at-home-by-o-green-chenille-hardwood-sofa/p-SPM5986598708P?prdNo=17&blockNo=67&blockType=G67
Often sofas with good lines can be found on Craigslist or at the Salvation Army. A camel back like this one (which are always in style) could be recovered in canvas drop cloths for under $1000.